Destination:
Lempuyang
Tirta Gangga
Besakih
Kintamani
Coffee Plantation
Inclusions & Price :
USD 25/ Pax, Minimum 2 Person
Depend on the Type of packages ( Regular, Special, Luxury)

Please contact us for more details!
Lempuyang Temple

Lempuyang Temple, locally referred to as Pura Lempuyang Luhur, is one of Bali's oldest and most highly regarded temples, on par with Besakih (aka the 'mother temple' of Bali). It is also believed to predate the majority of Hindu temples on the island. Definitely a highlight on any travel itinerary for the fit and adventurous, the main temple lies at 1,175m above sea level, up on the peak of the namesake Mount Lempuyang in East Bali.76.1 km Distance from Denpasar City to Lempuyang.

Tirta Gangga
The Tirta Gangga royal water garden is a cool retreat in the eastern highlands of the Karangasem regency in East Bali. It lies on the south-eastern slope of the island's highest mountain, Mount Agung, and was built in 1946 during the reign of the late king of Karangasem, Anak Agung Anglurah Ketut Karangasem (1887-1966).69.2 km Distance from Denpasar City to Tirta Gangga

Besakih Temple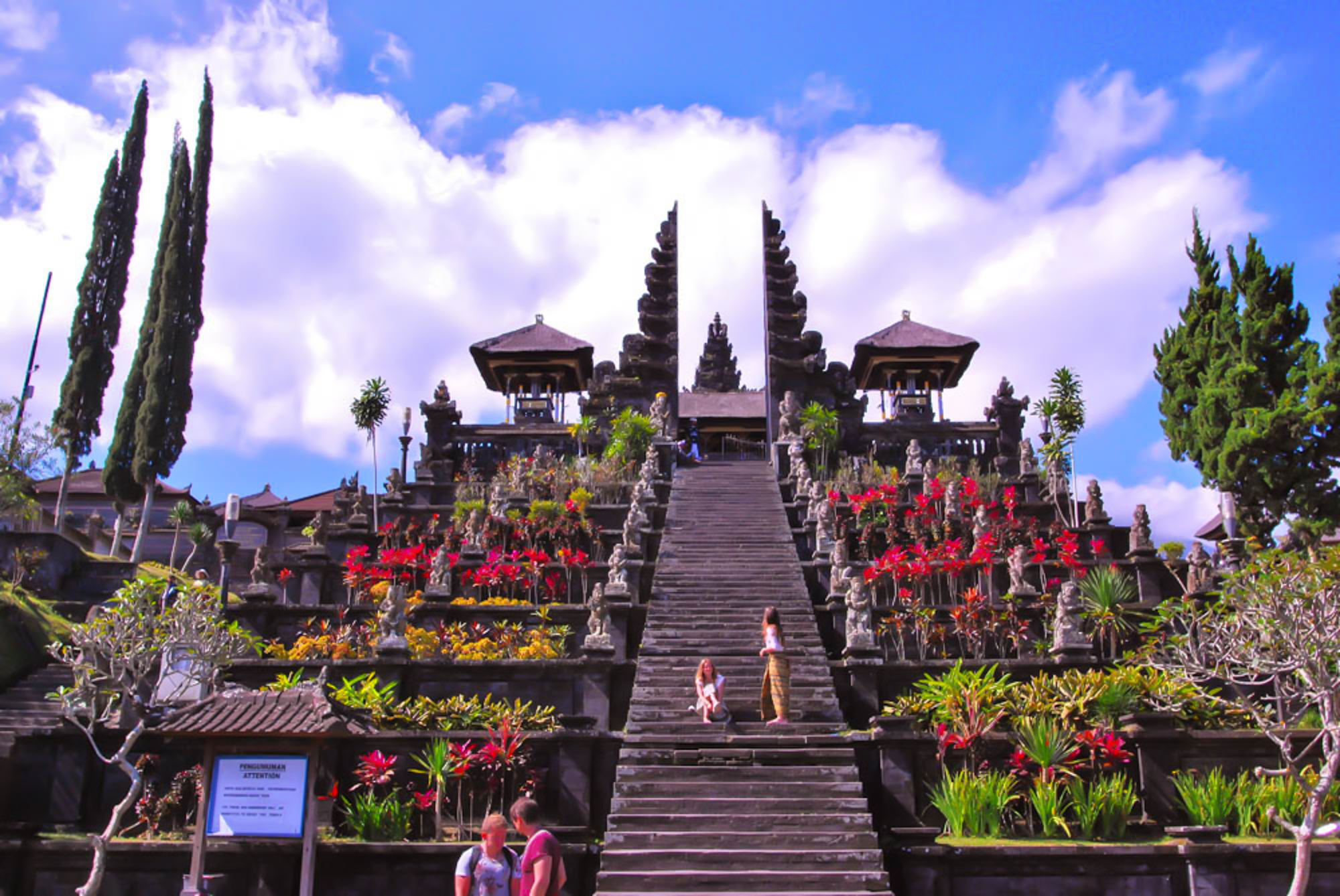 Besakih Temple, known as Bali's 'Mother Temple' for over 1,000 years, sits 1,000 metres high on the southwestern slopes of Mount Agung. Besakih is an artistic and unique complex that comprises at least 86 temples which include the main Pura Penataran Agung (the Great Temple of State) and 18 others. Besakih is the biggest and holiest of the island's temples and is surrounded by breathtaking and scenic rice paddies, hills, mountains, streams, and more.53.1 km Distance from Denpasar City to Besakih.
Kintamani
The Kintamani area consists of three main villages, namely Penelokan, Batur, and Kintamani. There are also some old Balinese villages around Batur Lake, often referred to as Bali Aga villages. Penelokan is a popular stopover. It serves as a vantage point at the southernmost part of the crater rim. From here, you can enjoy the sweeping views over the magnificent Bali volcano.62.1 km Distance From Denpasar City to Kintamani

Bali Coffee Plantation or known with popular name Bali Agrotourism, is a place to see various Tropical plantations such as coffee robusta, pineapple, Balinese snake fruite(salak), plain Balinese potatoes, fruit stars, cacao, jack fruit, durian tree and many more, experience to see how to make Balinese coffee in very traditional ways, and taste the fresh of Balinese coffee or ginger tea with green view river valley and also They sell variety of theirs original Balinese coffee products, herb oil and etc and see the civet cat the most expensive coffee maker, wellknown as Luwak , its produce "Coffee Luwak" No Entrance Fee.
CUSTOMIZE TOUR :You are welcome to plan Your own tour, we are sure to help You! Please sent us your list then we will organize your itinerary
For Booking And Price Please Contact Us via WhatsApp Or Email
---