Alas Kedaton Temple


Alas Kedaton Temple is a small forest with the width about 6-7ha located in the middle of the rice field in Tabanan regency, west part of Bali. The total size of Kedaton forest, temple and its supporter facility is about 12 ha. In this forest, there is a temple called Alas Kedaton Temple and owns the natural environments that is looked green with its fresh air and create the calm, quite and holy atmosphere.
Monkey at Alas Kedaton Temple
The monkeys in Alas Kedaton Temple are very tame and free gallivanting in temple yard, so that the calm atmosphere is sometime solved by noise voice of the monkey, which are playing around and scrambling of food. The monkeys who dwell in Alas Kedaton Temple, there are jump up and down in temple wall, take a bath in moat or there is also hang out in few leaves representing impression view. The monkey like as custodian of temple, which are always ready to greet all visitor who are paying a visit to Alas Kedaton Temple. Beside monkeys, in Kedaton forest also can be met the bats and some other animals. At least 24 types of grove plant have been identified in Alas Kedaton Temple.
Alas Kedaton is Place to Visit in Bali
Alas Kedaton Temple is located in Kukuh countryside, Marga Sub district Tabanan Regency. The journey go to Alas Kedaton Temple can be done easily by using motor vehicle follow the major roadway from Denpasar to Tabanan. On the way go to Alas Kedaton Temple, we will see the beautiful nature view where in front of us will meet the carpet of rice field and irrigation voice at the side of road to bear the impression/peaceful atmosphere. Alas Kedaton Temple have three yard that are external yard, middle and center yard. In the center and middle yard are encircled by wall and the outside yard is representing a open yard. The interesting point of this temple is the inside yard representing holy yard, its situation lower than the middle yard. This thing is different compare with the general temples in Bali that are more goes to inside the temple, the more higher the place will be. Beside of that another interesting point of this temple owns four entrances.
Temple Festival at Alas Kedaton Temple
The temple ceremony in Alas Kedaton Temple is carried out every 210 days a year. It is on Anggarakasih Medangsia (Balinese Hindu calendar) or on every Tuesday where on that time the society do the worship or pray to request the safety and prosperity. The unique in this ceremony is do not use the fire and do not hence Penjor and also finished before the sunset or before the night is come.
Alas Kedaton Temple is Tourist Destination in Bali Islands
In growth of handling of this tourist destination, Alas Kedaton Temple has several become a training location about tourism nature, environmental handling and agro tourism. Alas Kedaton is many visited by the tourist from local and foreign countries which are generally a lot of paying a visit on August, December until January, while the local tourist generally pay a visit on holiday season and feast day of Ramadan (Moslem holiday) and this place is good to be visited in the day time. In front of Alas Kedaton temple there are quite a lot small shops selling the handicraft as souvenir, for example clothes, pants and other handicrafts. Others, there are some shops booth selling food and beverage, toilet and park area which is wide enough.
Interesting Things at Alas Kedaton Temple
Visiting Alas Kedaton Temple Bali, at least there are 3 interesting things we can see.
First is the funny of the monkeys around the trees, Is free from charge of taking picture of monkey

The second one is bat show, must paid in order to enjoy the bat show at Alas Kedaton Temple

The third one is take some pictures with the snake. must paid to take picture with the snake. is good expereince especially for the children,can bring a very interesting experience related to the animals
In Alas Kedaton Temple, there are about 2.000 monkeys. They are the most attractive magnet for the visitors. The visitors can give some foods to the monkeys directly. Just put some nuts or cookies on your hand and those monkey will be happy to eat. With only some nuts on the hand, some brave visitors can take some pictures while the monkeys eating the nuts on their head, or hand. When doing this activity it is very advised to not wearing your hat, or glasses. The monkey have a bad attiture: they will steal your hat or glasses when ever they have a chance.
Atraction at Alas Kedaton Temple
The authorities of Alas Kedaton Forest, Desa Adat Kukuh, Marga, Tabanan has designed the forest full with the monkeys, to interact with the visitors directly. Of course, all of the monkey is gentle. They are not bad, as long as the visitor does not doing some bad thing, like hit them.
Another attraction is a bat show. It is not ordinary bat, but a giant bat. Very big. You will not see this kind of bat in daily life. So in Alas Kedaton Temple this could be the only one experience taking picture with a giant bat.
Last attraction or the third one is taking the picture with the snake. Not only for adults, kids is also very happy with the attraction. Again, this is not a wild snake like we often see in National Geographic. Although the snake is very big and long, but this creature is a gentle one. Some photograph with the snake in Alas Kedaton can be good here.
Location Alas Kedaton Temple
Alas Kedaton Bali can be reached from Kuta in about 30-45 minutes drive. You can go there, commonly by a car rental. The best time to visit this place of interest is around noon time. Alas Kedaton is at the same route with Tanah Lot Temple. So, if you put Tanah Lot Temple on one of your itinerary, then Bali Tanah Lot Tour is best choices.


Tanah Lot Temple
Bali Tanah Lot Temple is located in coastal side of Beraban countryside, Kediri sub district and Tabanan Regency. It is situated in 30 Km in west side of Denpasar town and about 11 Km in south side of Tabanan town. The temple is built on the rock with 3 acre size and reachable in a few minute by walk, because it is just 20 meters from the coastal lip. This temple is very famous among tourist destinations in Bali with spectacular view of sunset. At some nooks of coral reef around Tanah Lot Temple.
Meaning of Word Tanah Lot Temple
The word of Tanah Lot is consisted of two words that are Tanah word interpreted as a reef looking like gili or isle. Lot or Lod word has meaning the sea. So Tanah Lot is meaning the small island floating on the sea. The location is now called as Tanah Lot has been used at a Megalithic period as a place that looked into holy, proven from the existence of menhir. Pursuant to environmental condition, hence the structure of Tanah Lot Temple is built at irregular reef plain of its angle which is only consisted of one plain yard as Jeroan. Tanah Lot Temple differences with other temples on the island of Bali, Tanah Lot does not have a few pages because it is built on a plain of coral that irregular corners of his home. Inside the actual temple compound itself there are tiered shrines that follow the fundamental elements of Balinese design where the number of levels constructed are symbolic to the complexities of the faith. There are other formations within the area that indicate that the site is not only of great religious importance, but also maintains archaeological value. Temple nestled in the ocean has a ritual or ceremony which takes place every 6 months or 210 days. At that time all the Hindus from different areas in Bali will come to worship in peace and harmony to invoke
History Tanah Lot Temple :
Dang Hyang Nirartha" or better known as Pedanda Sakti Wau Rauh" that came from the region of Blambangan, East Java to Bali Island around the 16th century. At the time of the Reign of King Dalem Waturenggong in Gelgel, Bali. Later, he held a sacred journey (Dharmayatra) and walk down the south coast of the Bali Island from the western to the eastern regions. In the journey, in the end he found a beach in Tabanan area (now is Tabanan Regency), not far from the Baraban Village. Furthermore, he saw a rock in the shape of a small island in the sea. In this place he meditate and he felt the vibrations of chastity. So on top of the rock, he suggested setting up a holy building for worship of God then is now the Tanah Lot Temple.
The Uniqueness of Tanah Lot Temple
One of the uniqueness of the owned Tanah Lot is across the street from the temple there are a number of caves in which lived a few sea snakes are colored black and white generally can be met in the coast. Part of its stomach there are no athwart skin, there is only small skin, but this sea water snake very noxious but snake bite case are very seldom happened, because the sea water snake generally very passive. These snakes are very tame and not to be bullied for being considered a forerunner of the keeper and protect the entire area from unseen evil forces. Then there is also the trust in the Tanah Lot Temple there is also the source of holy water, exactly beneath the temple. Holy water is believed can bring sustenance to anyone who drank it.
The function of this temple can be realized from the function of the main temple building which is located in the temple main area. In this place, there is a main temple to worship the god in form of Dewa Baruna or Bhatara Segara, the sea power. The media of worship to this god is the temple building with 5 storied meanwhile the 3 storied temple building in north part of this area is purposing to worship to Dang Hyang Nirartha.
Function of Tanah Lot Temple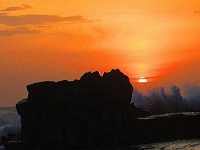 I

n order to know the status of Tanah Lot Temple can be realized from the temple history, function and also incoming devotee existence pray when temple ceremony is held. In this case can be realized as follows:
Tanah Lot Temple

as dang Kahyangan (the big Holy Temples in Bali), because the history and the Penyiwi (The people taking care of the temple) are from the local people from Tabanan regency and surrounding area

Tanah Lot Temple

as Segara Temple, because its function as sanctum to worship the Bhatara Segara, the God with manifestation as the ocean Power Deity
Not be separated from the myths that includes everything from the establishment of the Tanah Lot Temple this temple remains one of the main icons oftourism in Bali Island. This will be an impressive religious tourism travel for you let alone a visit while holding rituals accompanied by the event themed Tanah Lot Spectacular will make a trip on the Bali Island is becoming increasingly a memorable one.
The most popular time to pay a visit to Tanah Lot Temple is late afternoon when the sun begins to settle over the horizon and the temple is silhouetted against the vibrant glow of the sky. The site draws a crowd of travellers who come by bus load to witness this magnificent temple scene against a background of crashing waves.
Bali Water Sports and Tanah Lot Tour Packages Itinerary :
08.00 – Pick up at the hotel
Enjoy Bali Water Sports Tour Packages
Enjoy Lunch
Visit Taman Ayun Temple
Visit Alas Kedaton Temple
Visit Tanah Lot Temple with amazing Sunset view
Back to hotel

Arrive at hotel
Bali Water Sports and Tanah Lot Tour Price :
Adult : USD 60/adults
Children (5 - 12 years) : USD 50/children
Note :
Rates are quoted per person for minimum of 2 person
Get Special Price for group booking
Bali Water Sports and Tanah Lot Tour include :
Private Car with good A/C
English Speaking Driver
Petrol
Watersports Packages : Parasailing, Banana Boat, Glass Bottom Boat, Turtle Islands Tour
Note : The activity water sports can be change based on your request, please contact us if you want to change with different activity water sports, click here for suggestion of Bali Water Sports Activity
Entrance Fee
Lunch Indonesian food
Bali Water Sports Include :
Parasailing

The parasailor is strapped into a harness which is attached to the parasail canopy and connected to the speed boat via a rope
Banana Boat

The surprise movement on Banana Boat riding is one of the fantastic moments with unforgettable memory.
Glass Bottom Boat

A glass bottom boat is a boat with sections of glass transparent material allowing to see beneath water.
Turtle Islands Tour

Is an exciting Bali Water Sports tour package to enjoy visiting a small island with white sand and turtle conservation
Area Covered for Pick Up :
Seminyak, Legian, Kuta, Nusa Dua, Jimbaran, Sanur, Ubud, Denpasar, Benoa Harbour, Airport
Please contact us for pick up in different area.